News and Announcements
Sam Li's Demonstration Video Series
Sam Li has published three Wu Style tai chi videos on youtube, free to the public. You can view them from this web site, or find them by searching for Wu Style Tai Chi. Each video has been linked from college web page for the specific form.
Term 4 2021
Hello everyone,
I hope you are enjoying the beautiful spring weather, and getting out to walk and practice Tai Chi. Unfortunately classes will not resume this term, due to the ongoing Delta variant surge of Covid in Sydney. We can't wait until this settles down and we can practice together at Gymea.
Stay safe, and keep well!
— Helen Lee, Secretary
All Tai Chi Classes will be held in the Gymea Community Hall.
The college has registered as covid-safe and has a QR code. Please check-in when you attend classes.
Covid-19 Regulations
per Sutherland Council
Do not attend classes or practice if you are feeling unwell.
If you or any of your close contacts have been near anyone that has been diagnosed positive for COVID-19, or if you have travelled to a COVID-19 hotspot in the past 14 days you must not participate in this activity.
Practice good hand hygiene by regularly washing your hands.
Please maintain your distance of 1 person every 2 sq. m. while you are in the Gymea Community Hall. Outside, maintain a distance of 1.5m from all others.
Facebook Page for the College
Please follow the Tai Chi College on Facebook to get up to date information about classes and practice sessions. If you have any photos you would like to contribute just mention it to Helen. Thanks!
Committee
The Australian College of Tai Chi and Qi Gong has been operating in the Sutherland Shire since 1996. As of 1st January 2018, it has been operating as a Sports Association with slightly different procedures.
As of the Annual meeting in November 2018, the Committee office-bearers are:
President – Sam Li
Secretary – Helen Lee
Treasurer – Sam Law
The 4 additional committee members are: Andrew Rowlatt, Joyce Newbigging, Ken Dickenson and Martin Shipley.
Fees
There are 3 types:
Annual membership fee of $10, due once per calendar year for everyone.

New students who did not enroll in Term 1 will still need to pay this fee, as registration covers insurance for both teachers and students.

Annual Saturday Practice fee of $50, due once per calendar year for students attending group practice on one or more Saturdays in a calendar year.
Class attendance fees, charged per term.
Next Chance for Beginners to Start Tai Chi
Classes to begin the week of 04-Oct-2021.
The College follows the NSW school calendar, with tai chi classes starting during the same week as NSW school starts. Although it is easiest for beginners to start at the beginning of a term, in some cases it may be possible to join mid-way through a term. Contact an Instructor
View class schedule here.
Successful Food for Health Workshop
In August 2012, the college presented a Food for Health Workshop. This workshop was well attended and very successful. Those who attended learned a great deal about how to use food and water for optimal health, and how to balance inner and external resources.
Understanding the resources that improve health is only the beginning. The next and most important step is practice. Now is the time to take action and practise by yourself. Combining the correct foods, quality water and oxygen (as discussed in the workshop) as outside resources with daily Qi Gong and Tai Chi will greatly improve and sustain your level of health.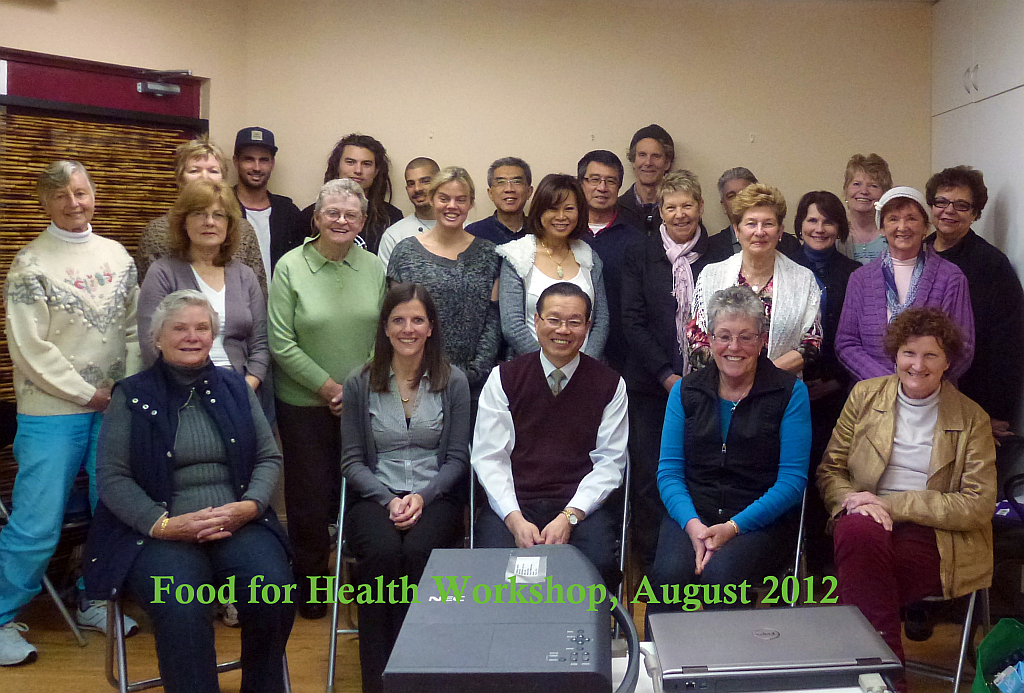 Food for Health Workshop Attendees
Guinness World Record Attempt Successful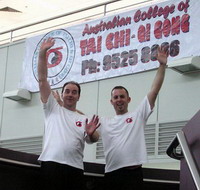 Ken and Kevin
Congratulations to Ken Dickenson and Kevin Bartolo on their successful Guinness World Record attempt! The pair managed to beat the previously held record of 24 hours by one hour on Saturday 18th of March 2006 at Sutherland Hospital.
Over $3500.00 was raised for the hospital's heart and lung rehabilitation centre through raffles and sponsors. Many thanks to everyone who kindly gave their time and support.